Prosthetic hands are devices that are used to replace some of the appearance and function of a human hand. Some prosthetic hands have limited or no movement, but others can grip objects, hold pencils, and even move in a natural way. A prosthetic hand is also known as a terminal device, and this is because it doesn't always look like a hand.
There are 3 main ways Prosthetic hands are used:
Passive – these prosthetics do no open or close. They are often used for cosmetic purposes but can also serve as a support for some activities such as catching, or stabilising an object etc.
Body powered – these prosthetic hands open and close using a harness that is suspended over the shoulders. Movements of the shoulder opens or closes the hand to hold items. These hands either look like a hook or a hand.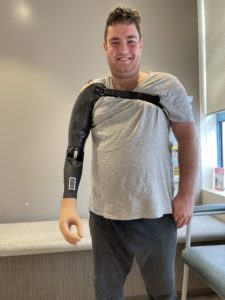 Myoelectric – these prosthetic hands are controlled electrically using sensors that detect your muscles moving to open or close the prosthetic hand. Similarly, these can be a hook or a hand. Typically, these can also incorporate multiple hand movements to improve the function of the prosthetic hand.
There are many different hands that are designed to do various unique tasks. Often upper limb (arm) prostheses are used for specific tasks and people might use several prosthetic hands interchangeably:
Bike riding – this hand allows grasp and release of the handlebars.
Gym/working out – these kinds of hands allow grasping of various gym equipment and can serve as stabiliser for floor-based workouts e.g., push-ups, planking etc.
Custom tools – these prosthetic hands are generally used for everyday tasks such as preparing and eating food and allow use of tools perhaps for the purpose of the user's job e.g., cutlery, hammer, saw etc.
Gardening/home maintenance – this prosthetic allows the user to grasp of larger two-handed tools e.g., broom, mop, rake, spade etc.
Sport specific – these prosthetic hands are designed for the specific sport the user plays or participates in e.g., golf, swimming, and cricket etc.
APC Prosthetic Services
Please contact your prosthetist if you have any further questions, we are willing to go above and beyond to create a prosthetic hand to suit your needs and help you reach your goals.