Myoelectric prosthetics (prostheses) differ from other upper limb prosthetic options in the way the terminal device (e.g. hand or hook) is controlled (open and closed). While other styles use harnessing and gross movements of the shoulder, myoelectric prosthetics use the movement of residual limb muscles to control the myoelectric hand. This is done by sensors placed within the socket that detect muscle movements and intuitively create movement at the hand. A benefit of a myoelectric prosthetic device is that they have a much more natural, intuitive way of using moving a prosthetic arm.
There are different types of myoelectric terminal devices that can be used, depending on the needs of the user and their ability to operate the various functions.
Single Grip Terminal Devices
These are simpler myoelectric devices that allow the opening and closing of a single grip position. These could be either a hand or a hook, depending on the users' needs and requirements. In general, a hand is for lighter-duty activities and a hook would be used in heavier-duty and dirtier environments.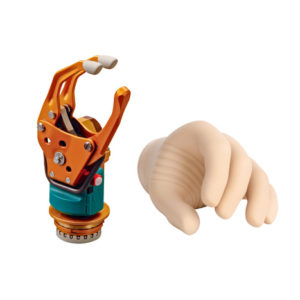 Multi Grip Devices
These are more sophisticated myoelectric devices that offer multiple grip positions. These always take the form of a hand and use a combination of thumb rotation and varying uses of fingers to allow various grip patterns.
Myoelectric Prosthetics Control Strategies
There are different control strategies that can be used in a myoelectric prosthetic arm. These are dependent on the users abilities and available funding.
Single Site – as the name suggest this uses a single sensor to detect and initiate movement of the myoelectric hand. this is the simplest form of control
Dual site – This uses two sensors to allow voluntary opening and closing of the myoelectric hand. This can also be used to adjust the grip when using multi-grip devices. This is one of the more common control strategies used.
Pattern Recognition – This uses a series of up to 8 electrode channels and allows recording/training of muscle movement "patterns" to create the various movements of the multi-grip terminal device. This also allows more intuitive use of powered wrists and elbows.
As with any prosthesis it's helpful to have a conversation with your prosthetist to figure out what is appropriate for you and suits your needs. Get in touch with our friendly team below through our contact form and we'll help you in any way we can.